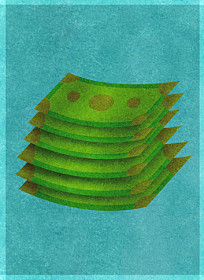 Question: Do you take insurance?
Answer:  Yes. If your health insurance plan includes out-of-network coverage, you may get significant  reimbursement for psychotherapy with me. The amount totally depends upon your insurance carrier and your particular plan, but can be over $100 per visit, depending on your plan.
I will gladly help you figure out what this looks like at or before your first appointment with me.
Question: What kind of payment do you accept?
Answer:  I accept all major credit and debit cards, as well as personal checks and cash at the time of your visit.
Question: Why aren't you In-Network for any of the insurance carriers?
Answer:  It's complicated. Until January 1, 2013, I was a contracted provider with Premera, First Choice, Lifewise, and other affiliated insurance plans like KPS and some Group Health plans. However, the terms and conditions of remaining "In-Network" became both financially and administratively unsustainable for me. I finally decided that I wanted to spend more time caring for people, and less time on the phone dealing with insurance company claims processors and provider relations specialists.
Question: Can you still bill my insurance company for me? I don't know how to submit claims and am nervous about the process and having more paperwork to do on my own.
Answer: Yes I do! Electronically, and on the same day of your visit. This will speed up the reimbursement process for you and save you the headache of filling out claim forms. Many Seattle therapists do not do this for you, opting instead to provide you with a receipt or statement at the end of each month for services rendered. I consider this a part of my service for my clients.
Question: Can you help me figure all of this out if I bring in my insurance information?
Answer: Yes! Of course! I will be happy to help you navigate these issues. With some basic information, I can call your insurance company to assess your level of coverage and find out whether or not our work together will be eligible for reimbursement–and for how much!
Question: What if I can't afford therapy at all without my insurance?
Answer: I completely understand the difficulty this creates from a financial standpoint. That's why I take on the added financial burden and risk of accepting credit cards–so my clients can invest in themselves without having to pay cash all at once.
Question: Does this apply to Couple's Therapy too?
Answer: It may. Some insurance companies will reimburse for couple's therapy if it is medically necessary to address the diagnosis in the subscriber. This will have to be determined on a case by case basis. As a general rule of thumb, insurance does not pay for couple's therapy without that medical necessity.