Coaching and Consulting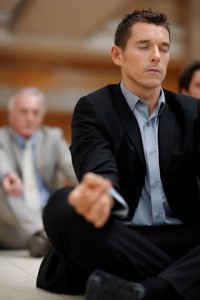 Executive Coaching: One on One
I offer Executive Coaching and Life Coaching and Mentoring services to people who want to find greater satisfaction and effectiveness in every aspect of their lives, using the powerful ancient Buddhist practice of mindfulness alongside what we now know about neuroscience and psychology.
Here are some of my qualifications as an Executive Coach.
I was trained in Leadership as a commissioned officer in the United States Army, and had a career in healthcare operations in both the government and private sectors prior to becoming a strategic marketing consultant with my own firm here in Seattle.
As a part of expanding the offerings of my consulting firm in the late 1990's, I attended Bastyr University/the Leadership Institute of Seattle to gain a systemic perspective on organizations and their leaders, where I was trained by renown Executive Coach, Mary Beth O'Neill, author of Executive Coaching with Backbone and Heart,as well as Dr. Pamela Johnson, a veteran of both the Weatherhead School of Business at Case Western Reserve University and the world famous Gestalt Institute of Cleveland.
This led to a fascination with the human psyche and an eventual Ph.D. in Clinical Psychology. In addition to Executive Coaching, I spend most of my time in my private Seattle Psychology practice working with people suffering from Depression, Anxiety, and Relationship Problems. You can read more about that here.
I apply many of the same methods and wisdom, along with 25 years of experience in leadership and clinical practice, to help my clients attain uncommon results. My coaching clients may be:
Experiencing burn-out in the workplace;

Looking for help on a personal path of development;

Hoping to become a better, more effective leader in their organizations;

Seeking improved health and vitality;

Struggling with juggling multiple competing priorities or with maintaining focused attention;

Searching for more meaning, both personally and professionally;

In need of awakening greater creativity and intuition;

Having trouble with conflict in the workplace, communication problems at home and at work.
Call today for more information: 206-801-3214.
note: If at any time I feel that you would either be better served by a qualified psychotherapist, I will refer you out. This may be instead of or in addition to my executive coaching services and may be a requirement in order for us to continue working together in some cases. If we enter into a coaching agreement, I will not be able to switch roles and become your psychotherapist. Multiple relationships are ethically prohibited in Executive Coaching and in Psychology.